Specify the Right Products for Reliable Performance
Automotive exterior lights are designed to provide safe, reliable operation in a range of driving conditions. For many vehicles, they are also an important design element for the overall look of the automobile.
Engineers have the skills and technology to specify the right product to maximize efficiencies without sacrificing performance.
Automotive headlights come in a variety of technologies, including:
Halogen - waning in popularity for auto headlamps, these bulbs use halogen gas and produce a yellowish, dull glow compared to other technologies. The typical lifespan of a halogen bulb is 2,000 hours.
HIDs - high-intensity discharge bulbs are also found in some models. They leverage Xenon gas to produce a very bright light with a blue tint. The typical HID bulb lasts 5,000 hours.
LEDs - light emitting diodes (LEDs) are gaining popularity for automotive headlights due to their energy efficiency and long-lasting performance — 50,000 and 100,000 hours!


Exterior Auto Lighting Design Factors
As consumers and manufacturers continue to push the envelope in exterior auto lighting, design engineers must weigh several factors:
Energy efficiency - the car's battery powers headlights and energy-efficient products reduce the power wasted, thus improving fuel economy and reducing environmental impact.
Compact footprint - space may be limited for front and rear exterior headlamp components to maintain the sleek design aesthetic modern consumers expect.
High-temperature capability - these lights are often exposed to high temperatures from the engine and the sun. Semiconductors must withstand these conditions without damage.
High current handling - headlights require a large amount of current. Components that can handle high currents without overheating or failing are essential.
Low on-resistance - low on-resistance will result in less power loss, which can improve the headlight's efficiency.
Fast switching speed - exterior auto lights must quickly switch between high and low beams while maintaining the correct brightness level.
Low reverse recovery time - a low reverse recovery time will help reduce the amount of noise generated by the headlight.
Applicable industry standards - Automotive components must meet stringent requirements and industry standards, such as AEC-Q101. MCC has a robust portfolio of Automotive-grade products for a range of applications.
Automotive Lighting Block Diagram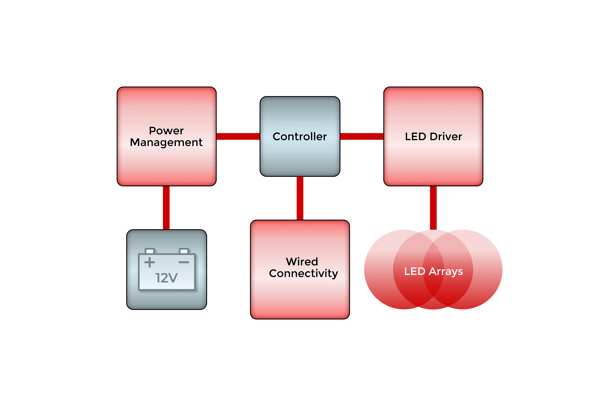 Recommended Products
Power Management

Schottky Barrier Rectifier:

SS110Q-L

AEC-Q101 Qualified
1A, 100-200V
SMA Package

Schottky Barrier Rectifier:

SK210Q-L

AEC-Q101 Qualified
SMB Package
2A, 100-200V

Schottky Barrier Rectifier:

SK310Q

AEC-Q101 Qualified
SMC Package
3A, 100-200V

Battery Reverse Protection

Power MOSFET:

MCACL320N04YQ

40V
AEC-Q101 Qualified
DFN5060 Package

Power MOSFET:

MCG53N06AHE3

60V
AEC-Q101 Qualified
DFN3333 Package

Motor Control/LED Driver

MOSFET:

MCACL320N04YQ

40V
Split-Gate Trench Technology
AEC-Q101 Qualified
DFN5060 Package

MOSFET:

MCU75N06YHE3

60V
Split-Gate Trench Technology
AEC-Q101 Qualified
DPAK Package

CAN/LIN Bus Protection

ESD Protection:

ESD1524D3BHE3A

15 VRWM
AEC-Q101 Qualified
SOD-323 Package

ESD Protection:

ESD24VD3BHE3

24 VRWM
AEC-Q101 Qualified
SOD-323 Package

ESD Protection:

ESDSB5V0D3BHE3

5 VRWM
AEC-Q101 Qualified
SOD-323 Package
No matter your exterior Automotive lighting design objectives, we have the quality discrete semiconductors to help you deliver the ideal product for your end-users.
Explore MCC's diverse solutions for Auto and EV applications, including:
Body Control Module (BCM)
Infotainment & Instrumentation
On-board Charger (OBC)
EV Charging Station
Battery Management System (BMS)
DC-DC Converter
Advanced Driver Assistance System (ADAS)
Ready to chat or request a sample? Contact us today.

Post by MCC
September 11, 2023
MCC is a proven global leader in discrete semiconductor solutions. With best-in-class service, a strategic support network and growing portfolio of 10,000+ high-quality components, we help our customers innovate in automotive, industrial and beyond.