Supplier Achieves Record Sales Growth in the EMEA Region
At MCC, we value strong partnerships, and global distributor, Future Electronics, has been an amazing partner over the years. Despite uncertain times, the team has steadily grown our market share in a competitive industry to hit aggressive growth goals.
To show appreciation for their tireless dedication and a record year in sales in the EMEA market, MCC honored Future Electronics with a Channel Partner Award.
Future's team accepted the award during our partner meeting at electronica on November 16th 2022.
The MCC and Future teams were all smiles as they received the award!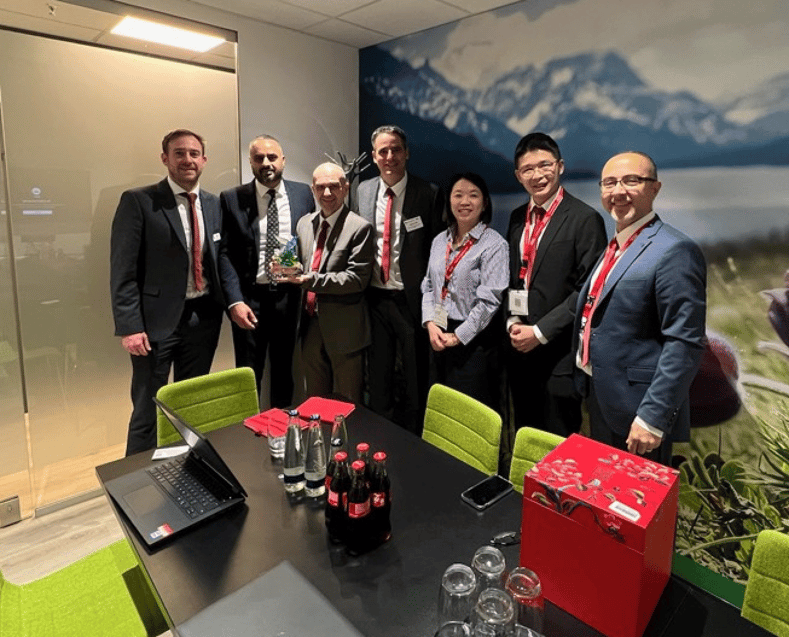 Chris Barnes, Product Marketing Manager.; Mick Dhanjal, Dir of Marketing, EMEA; Luigi Vandelli, Sales Director-Southern EU/UK and Ireland/Israel (ENFJ-A); Nelson Ortiz, Nelson Ortiz, Sales Director DACH, MCC; Pam Chen, Corporate Vice President/General Manager-Global Sales, MCC; TH Koay, Technical Marketing Director, MCC; Evren Toker, Sales Director-Northern/Eastern/Western EU (exclude DACH)(ENFP)
Delighting the customer from concept to creation is something both Future Electronics and MCC take seriously. We aim to partner with designers and engineers, ensuring the best end result while maximizing efficiencies.
Our portfolio of 10,000+ high-quality semiconductor components is expanding along with our wafer production and R&D investments, ensuring we always have the leading-edge products Future's customers are looking for to optimize their designs.
We're honored to receive this prestigious award. We owe our success to our team's die-hard commitment to providing above-and-beyond value and service to our business partners and customers. Mick Dhanjal, Dir of Marketing EMEA, Future Electronics
| | |
| --- | --- |
| Luigi Vandelli, Sales Director-Southern EU/UK, MCC | Our FAEs and sales teams are a natural fit with Future Electronics, with shared values, work ethic and determination to deliver the absolute best in all we do. We couldn't be happier with our partnership and look forward to greater shared success in the coming year. |
Another reason we work so well together is the lead time advantage we provide our customers worldwide. According to the Future Electronics Q4 2022 Market Conditions Report, MCC had lead times that were nearly half that of other leading semiconductor manufacturers in the following categories: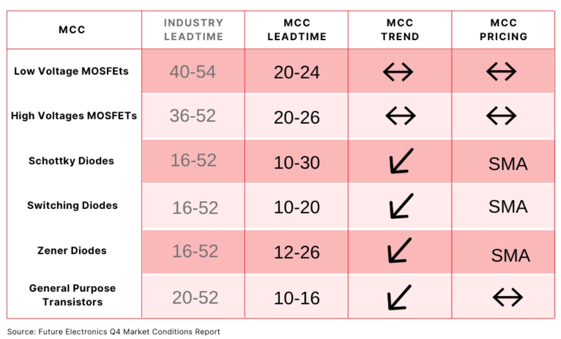 This is the first time Future has won this award from us in the EMEA region, but we don't think it will be the last.
Congrats to the entire Future Electronics EMEA team! We enjoy working with you!

Post by MCC
December 12, 2022
MCC is a proven global leader in discrete semiconductor solutions. With best-in-class service, a strategic support network and growing portfolio of 10,000+ high-quality components, we help our customers innovate in automotive, industrial and beyond.