Key Distributor Recognized for Record Sales Growth
At MCC, solid relationships with stellar distributors are the lifeblood of our sales success. And Arrow Electronics is a prime example of what that partnership should look like. The distributor's team complements MCC's global sales network to ensure only the best in customer service and delivery.
In 2022, as companies struggled to recover from supply chain and other disruptions, Arrow delivered record sales for MCC in the EMEA region. To recognize this achievement, we awarded Arrow a channel partner award during our meeting at electronica in November.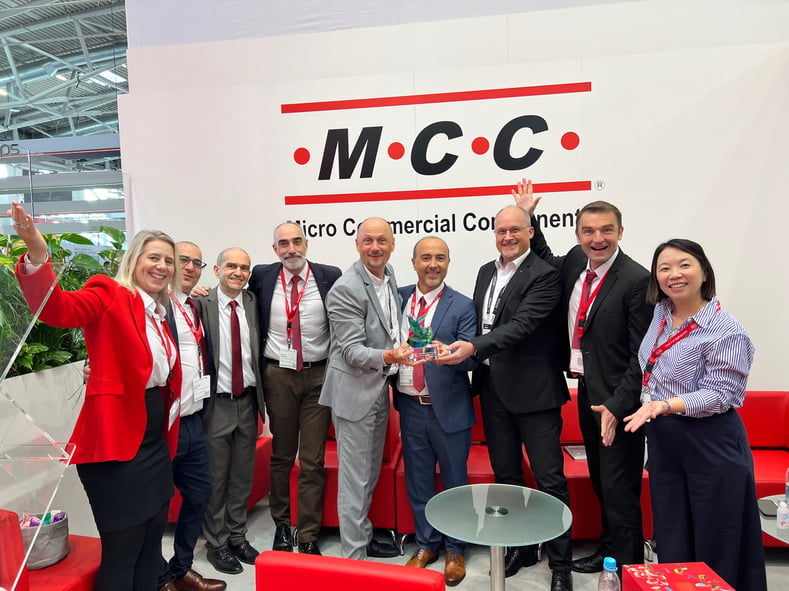 Pictured from left to right:

Sannah Vinding, Digital Marketing Director, MCC; Gur Arie Sror, Country Manager-Israel, MCC; Luigi Vandelli, Sales Director-Southern EU/UK & Ireland/Israel; Carlos Herranz San Segundo, Account Manager- Iberia, MCC; Christian Schemat​, Product Group Manager EMEA, Arrow; Evren Toker, Sales Director-Northern/Eastern/Western EU (exclude DACH); Rudolf Wessel​, Product Management Director Semiconductor Technology EMEA, Arrow; Gildas Goltais, Country Manager-France & North Africa MCC; Pamela Chen, Corporate Vice President/General Manager-Global Sales, MCC.
| | |
| --- | --- |
| "Our goal is to provide solutions that improve business and life, and MCC helps make that easy for us to accomplish. We're proud of the seamless relationship we have with the knowledgeable field application engineers. Combined with the top-quality components and short lead time, it's a win-win-win for the customer, us and MCC!". | Rudolf Wessel​, Product Management Director Semiconductor Technology EMEA, Arrow Electronics |
| | |
| --- | --- |
| Evren Toker, Sales Director-Northern/Eastern/Western EU, MCC | "We truly value our partnership with Arrow Electronics. It's a great working relationship because we share the same priorities: providing best-in-class customer service and selling only the highest quality products." |
Whether you're an engineer, OEM or distributor, here's what you can expect from partnering with MCC:
10,000+ components and counting

- find the perfect component at a competitive price — whether it's a MOSFET, IGBT, diode, transistor, power module or other discrete semiconductor product.

Continued investments in R&D

- delivering innovation drives us, so we have two dedicated R&D centers to help you shape the future of semiconductor technology.

Responsive, knowledgeable team

- from expert FAEs to sales and production teams, our extensive global support network is here to partner with you to help you attain your goals.

Tools to make specifying products easy

- our website was designed with engineers in mind and has several time-saving tools for sourcing components.

Ambitious NPI roadmap

- MCC has several new products in development to deliver even more powerful yet efficient solutions in automotive, IIoT, renewable energy and many other industries.
We couldn't be happier with our ongoing partnership with Arrow Electronics and the direction of our company. Here's to continued — and shared — success in 2023 and beyond!

Post by MCC
December 15, 2022
MCC is a proven global leader in discrete semiconductor solutions. With best-in-class service, a strategic support network and growing portfolio of 10,000+ high-quality components, we help our customers innovate in automotive, industrial and beyond.