According to a recent EETech Survey, some of the most pressing challenges electrical engineers face in their roles are:
Staying on

schedule

Staying on budget
Not enough engineers on staff
Changing and/or unclear requirements
Too many projects
National or global economic conditions
Quality control
Sound familiar?
According to SnapEDA, engineers spend around 50% of their time chasing part data, and these challenges are definitely to blame.
The good news is, whether you're working on an NPI, need to quickly find an alternative component or qualify your supplier, MCC delivers the tools to help you:
Quickly find the component that matches your specs
Run simulations that lead to better designs
Minimize costly production disruptions
Source alternative parts with ease
Select the ideal product for your device
Slash production lead times and costs
Be more effective and efficient in your role
Armed with these web tools, engineers are free to focus on the work that really matters — product design and redesign — rather than drowning in paperwork every time there's a component change or supplier issue.
Better yet, all information shown is updated weekly, so you know it's more current than a printed catalog or PDF you received months ago.
Here's a quick overview of the powerful resources available at your fingertips on the MCC website:
Tool #1: Parametric Search / Self-Service Catalog
With everything going on in the world and the industry, needing to find a replacement part or alternative component is inevitable. So, we created a robust search feature on our website that allows engineers and procurement teams to cross-reference products quickly and easily.
Simply enter minimal search parameters, such as:
Package type
Product category
Voltage
Current
A few characters of a product number
For example, if you typed in Schottky Barrier Rectifiers, you'd get the following results for the available Schottky Barrier Rectifiers: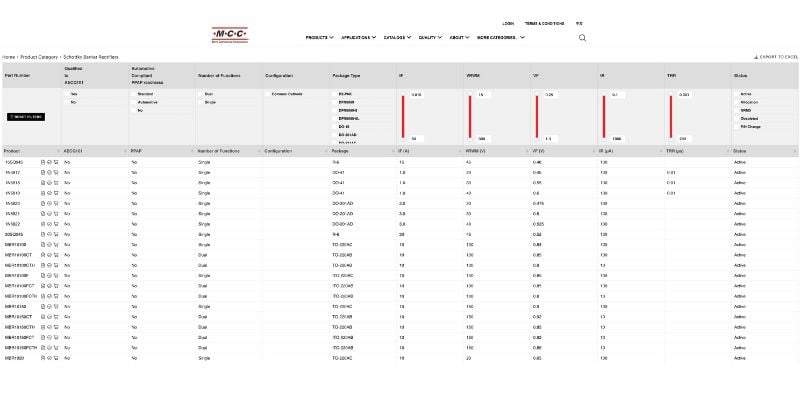 At first glance, this search feature seems pretty basic. But, if you keep scrolling, you'll discover a host of useful information and filters:
AEC-Q101 Compliance
Automotive compliant PPAP readiness
Number of Functions
Configuration
Package Type
Forward Current IF (A)
Reverse Current VRWM (V)
Forward Voltage VF (V)
Reverse Leakage Current IR (µA)
Reverse Leakage Current IR (µA)
Product Status
You can also use the icons located immediately after a part number in the search results page for quick access to the following:
Datasheet - click the PDF icon
Distributor Inventory Search - click the checkmark icon
Buy now from Digi-Key - click the shopping cart icon
Tool #2: Product Document Hub
And once you find a component you like in the search results, click on it to get ALL the information you need to make more informed design decisions (with appropriate links to documentation!) for:
Status - is the product active, in allocation, or obsoleted?
Check stock/Buy now - check inventory levels and buy from distributors immediately (see tool #3 for more details!)
Datasheets - the technical details you need, ready for immediate download
Part Details - everything from status to package size, forward current IF, forward voltage VF and other relevant parameters
Package - configuration, package type, package specification, component weight and marking code
ECN/PCNs - both internal and external change notices, including dates and files
Reliability and Chemical Content - everything from the FIT and reliability report to material composition datasheet, soldering profile and tin Whisker Test report in one place
Similar Recommendations - see recommendations that could also match your needs and specifications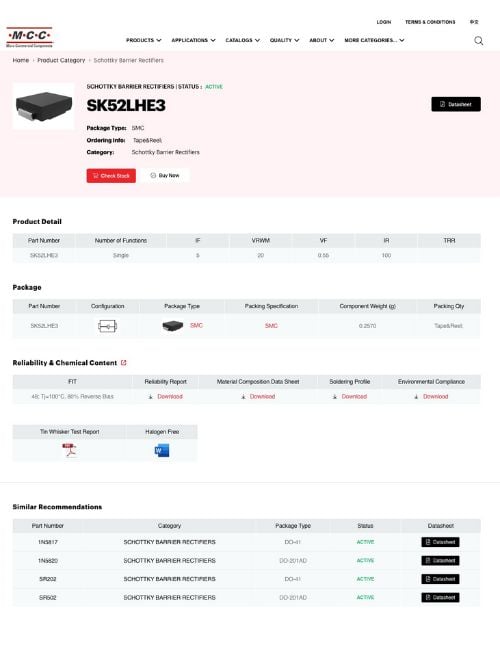 Tool #3: Inventory Search
Located inside the Product Documentation Hub, the inventory search tool is a hidden gem with the power to help you price and secure quality components in a matter of minutes.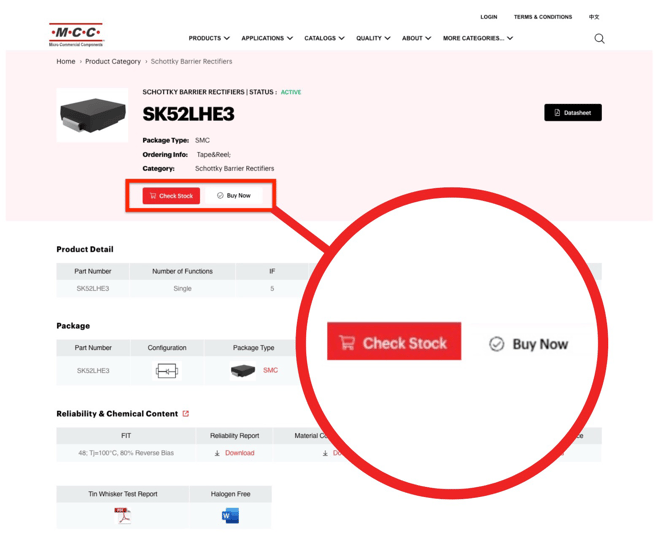 Simply click on the "Check Stock" button from the product hub to
Check current distributor inventory levels - view distributor supply levels for your component with reliable information updated daily.
Shop by region - choose from global, the Americas, Europe or Asia.
Compare lead times and prices - determine which distributor has the best timing for you by starting an order from the shopping cart, or select the distributor you have active agreements with.
You can also use the "Buy Now" button to be taken to the Digi-Key website to begin an order.
Tool #4: Cross-Reference Search
Have a competitor's component that's in allocation or will take too long to arrive? Or maybe the part is available, but you think you can do better on pricing? Enter that part number to find recommended MCC alternatives.
In the search feature, there's a tab immediately after products that allows you to cross-reference by a competitor's part number.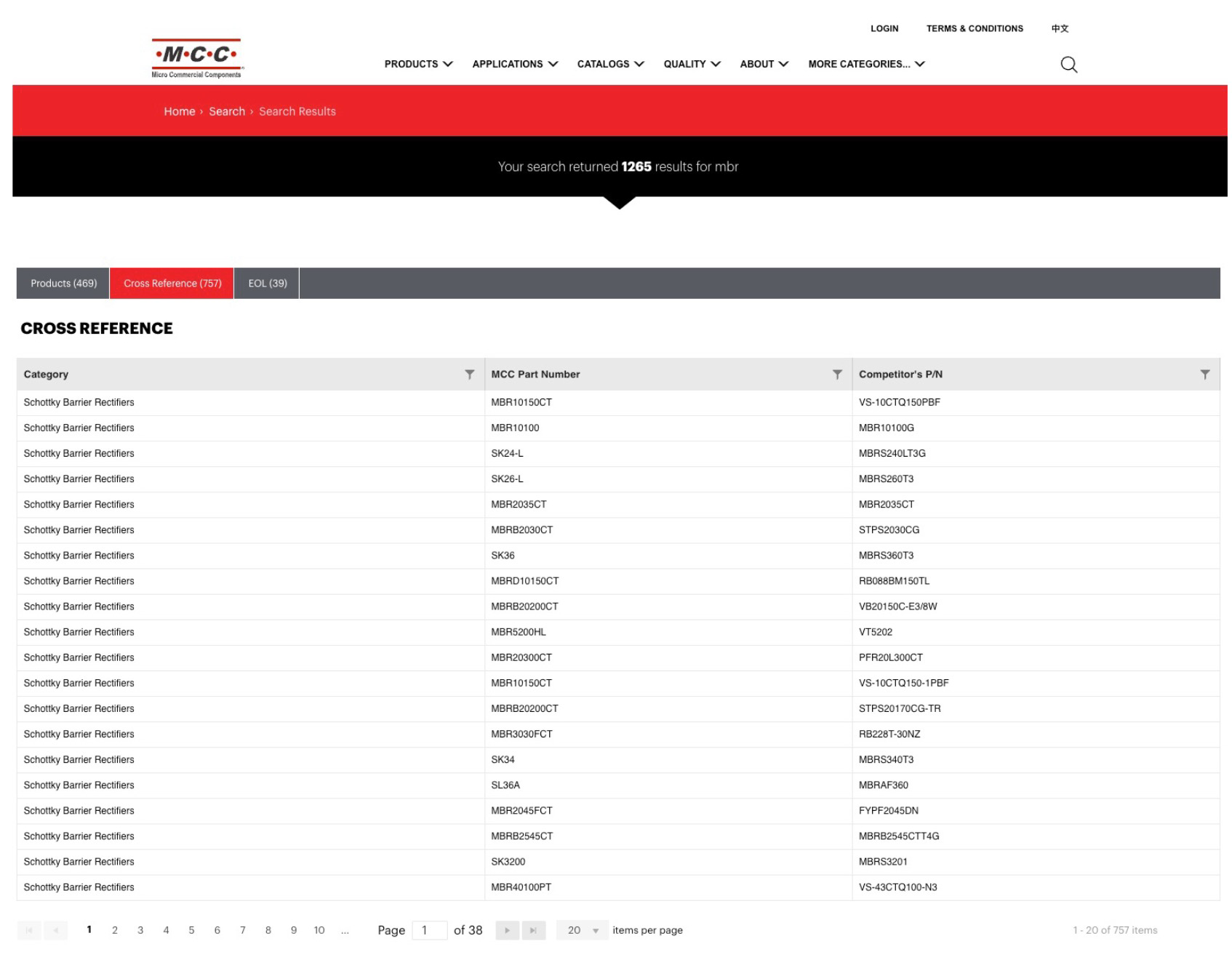 When you find an MCC product that aligns with the competitor's part number, click on the MCC part number for the same gold mine of information we highlighted above on the product detail page — from inventory and ordering to data sheets and documentation.
| | |
| --- | --- |
| At MCC, we love being able to help our clients save time and streamline production, whether they need a replacement supplier or have a hard-to-find component. For one leading global OEM, we were able to help the client get to market 8x faster — cutting the lead time from 24 weeks down to three! | TH Koay, Technical Marketing, MCC |
Tool #5: End of Life (EOL) Search
What if a product is discontinued or obsoleted? It can be a headache to quickly find and qualify an ideal replacement, slowing down production and derailing product timelines.
That's why we created an EOL function within the search feature. You can find it as a third tab on the search results page.
You'll immediately see the last ship date, a downloadable EOL report and suggested alternatives.

Click on one of the obsolete products to quickly access the information necessary to find a suitable replacement and update any necessary information in the Product Document Hub.
Save Time & Secure Your Supply Chain
The MCC website was built with the robust features to save engineers and procurement teams precious time specifying, qualifying and finding alternative components.
These online resources will help you keep projects moving as they should, stay on budget (or less!) and simplify your procurement and qualification processes.
Ready to give our robust search tools a test-drive?
Start in the navigation bar or the search bar on the homepage: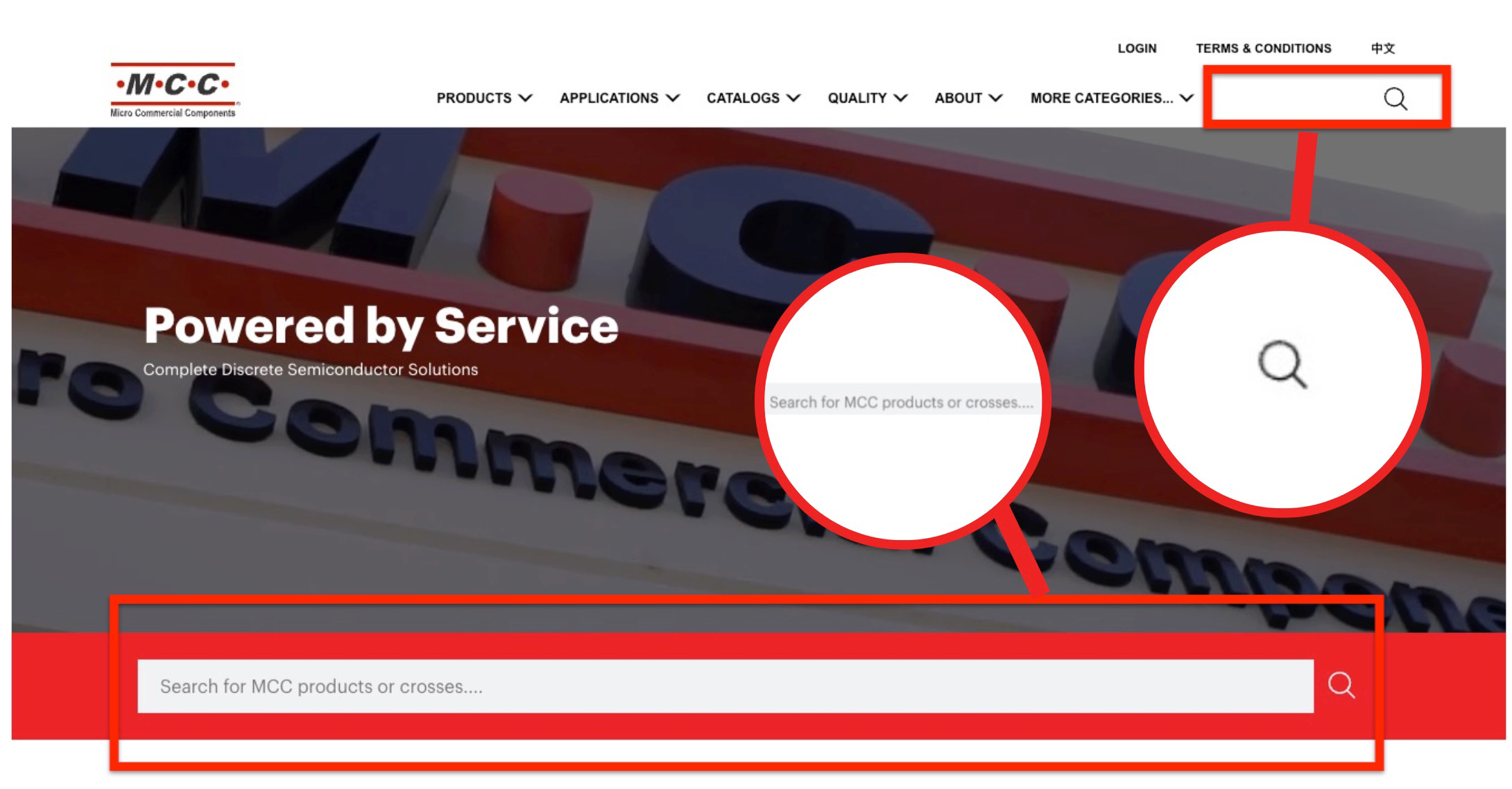 And if you need assistance or want to speak with one of our experts, we're here to help with responsive service.

Post by MCC
December 5, 2022
MCC is a proven global leader in discrete semiconductor solutions. With best-in-class service, a strategic support network and growing portfolio of 10,000+ high-quality components, we help our customers innovate in automotive, industrial and beyond.