What a year 2022 has been! The MCC team worked really hard to deliver big results for our customers this year. Here's a recap of some of our most memorable achievements of 2022:
Deep investments in growth and innovation
MCC is committed to offering quality products while conducting business in ways that are socially responsible, ethical and sustainable. With over 10,000 components and counting, we constantly expand our product portfolio to meet the ever-changing needs of our customers, whether breaking into new and emerging markets or pushing established ones, like Automotive.
Our robust Automotive portfolio is growing to deliver even more semiconductor products that are AECQ101 and PPAP certified.
To meet increasing demand, we increased our allocated revenue for R&D to 6%, plus another 20.7% to capital investments in 2022 With R&D facilities in Taiwan and Japan, we have several NPIs in the works and launched three successful products this year:
600V, 800V Low VF Bridge Rectifier
Low VF, Low IR, High IFSM
High reliability and quality
Available in GBU or CBJ packages
High current capability
650V, 1200V IGBT
Low Vce for low conduction loss
Low Eon/Eoff for low switching loss
High current conductivity
Easy to parallel
Ideal for photovoltaic and industrial applications
Automotive Schottky Barrier Rectifiers
High efficiency, low power loss
High voltage (up to 200V) and current capabilities (up to 15 A)
Green and halogen-free
Ideal for low-power, high-efficiency applications
Increased manufacturing capacity
This year, we doubled our capacity on several high-demand wafer packages, and offer a comprehensive portfolio of 4", 6" and 8" options. Whether you need to scale up production or find ways to reduce costs on high-volume runs, we have the capabilities and expertise to meet your goals.
Record sales growth in Europe, Middle East and Africa (EMEA)
Two of our key distributors were honored for attaining aggressive sales goals in 2022, despite the industry still recovering from the pandemic and other economic factors.
Both Future Electronics and Arrow Electronics received Channel Partner Awards for their dedicated service and tenacious sales success.
This growth is certainly a team effort and reflection of MCC's support and our partnership. The future remains very bright — we have many more opportunities and customers to address in new ways to drive MCC sales. I really feel that we are at the beginning, and we should be aiming to double our sales goal in EMEA for 2023! With our ongoing collaboration, I am confident we can achieve that next milestone.

- Mick Dhanjal, Dir of Marketing EMEA, Future Electronics
Industry leading lead times
According to a recent market conditions report, MCC's lead times are nearly half the industry average in six discrete semiconductor categories!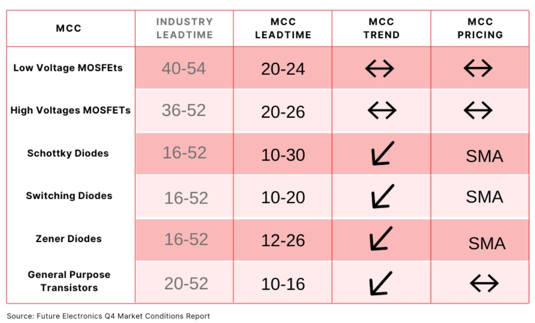 Our clients get to market faster with fewer disruptions thanks to our control of raw materials, quick sample support and responsive team.
Committed to expanding your horizons and ours
Whether it's emerging market trends, expanding industry solutions or investing in the team and technology, MCC is here to help you get to market faster and more efficiently.
Industry leadership & involvement
From Munich to Guadalajara — and many places in between — MCC made deep investments in shaping the future of the electronics industry. Between partner events, client and internal team meetings, industry trainings, and trade shows, our calendar stayed full year-round.
electronica
The highly anticipated electronica show was an inspiring experience for all of our sales and leadership team members who attended. It had been four years since we last exhibited at electronica. As one of 2,144 exhibitors, MCC made a big splash with demos of our website tools and product displays of our three new NPIs at our booth:

Even though electronica was only a month ago, we can't wait for the next one in 2024! Feel free to check out our key takeaways from electronica 2022.
Digital excellence award
To further enhance our commitment to best-in-class service, MCC invested in the tools and technology to better serve our customers. In recognition of our digital transformation achievements, we received a RainMaker22 Award from Model N for our ability to go live in less than eight months with its innovative platform. This was no small feat because our team used a hybrid work schedule.
Thanks to all of our employees, distributors, OEMs, partners and customers. We know there's a lot of opportunity still out there, and can't wait to see how we can help you thrive in 2023 and beyond!

Post by MCC
December 28, 2022
MCC is a proven global leader in discrete semiconductor solutions. With best-in-class service, a strategic support network and growing portfolio of 10,000+ high-quality components, we help our customers innovate in automotive, industrial and beyond.